To make changes to your Project Settings simply visit the Project Management page of the project you wish to change.
This first section will break down the Project Settings for Bid Type Projects
The first option you will see will be to turn on/off the Verified Only setting
Turn on this setting if you wish to only allow users who have been verified through the Latium Proof of Human system to be able to work on your project
The next section you see will be to Close Bidding. This section allows you to either immediately close bidding for your project, or set a date for your project to close bidding automatically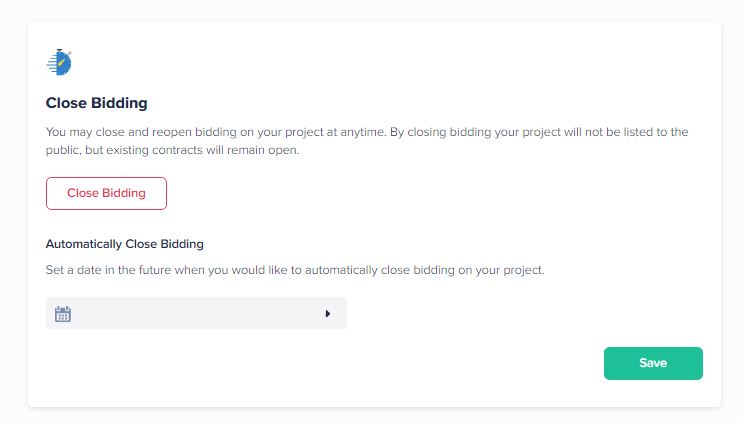 Closing Bidding on your project will simply remove it's listing from the main pages of the Latium Freelancing platform. The current open Bids and Contracts will not be affected by closing Bidding.
The next option you will see is Auto Pay. Auto Pay is a unique feature that allows you to automatically pay Freelancers who have submitted their work for review. It also provides you with the ability to set a Review Period, where you give yourself a certain amount of time to review the project. If you do not review the project in that amount of time then the contract will automatically be paid

Next, you will see the option to allow Multiple Bids & Contracts. Here you can edit how often a Freelancer can submit a bid for your project and/or how many contracts they can complete on your project.
Finally, for Bid Type projects, you see the Auto Withdrawal setting. Auto Withdrawal allows you to set a minimum starting time for the Freelancer to begin working on the project. If the Freelancer does not begin working in time, then the Bid is automatically declined with no penalty to your Employer Approval Rate.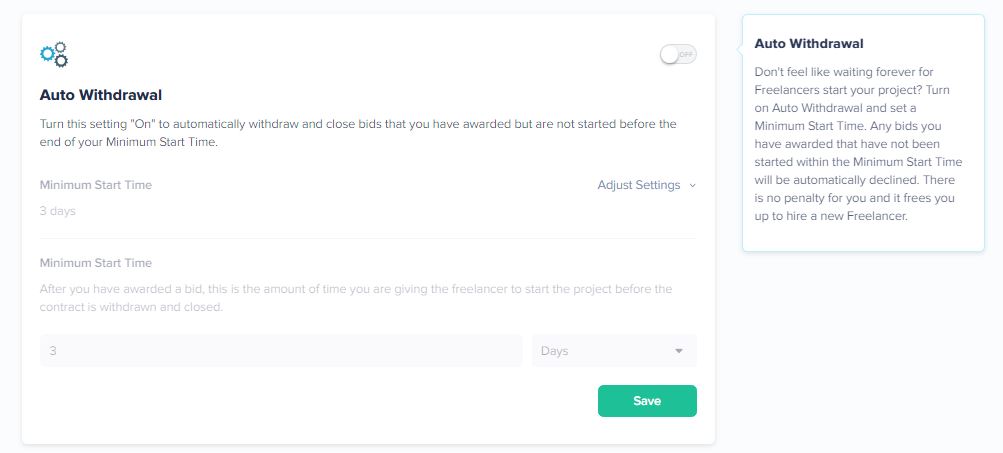 This section will focus on the different settings available for Instant Hire projects.
There are only a few different settings for Instant Hire projects. The first being the Time To Complete setting. This setting allows you to set a time allowance for the Freelancer to complete the project. Any changes to this setting will only apply to new contracts.

The next difference is Close Hiring. The only difference between this and Close Bidding is the name. It functions in generally the same way as Close Bidding.
The only other setting that is different is Auto Cancel. Turning on Auto Cancel will automatically cancel and close any contract that goes into Past Due status. This does not affect your Employer Approval Percentage.