Reviewing your Freelancer's work is an important step in making sure they have completed everything you have agreed upon. To review their work you must visit your Project Management page.
A Freelancer who feels they have completed their work will submit their contract for review. When you visit your Project Management Page you will see all contracts that are in For Review status
To review you can check the chat to see any files that have been submitted or the Proof Screenshots to make sure the correct screenshots have been submitted. If you are happy with everything you can click "Pay Now" to release payment to the Freelancer. However, there are other options if you click the three dot menu at the top right.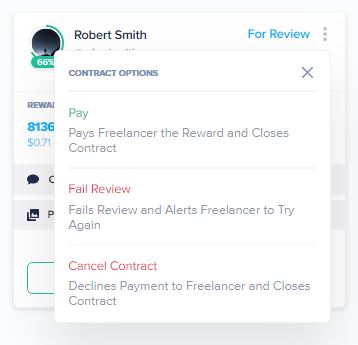 All of these options are available to you throughout the review process.